Situated between Guisborough and Great Ayton in North Yorkshire, Pinchinthorpe Hall operates as a restaurant and hotel, with facilities for conferences, weddings, and other occasions.
A stunning Georgian manor house commanding spectular views of the Cleveland Hills and Roseberry Topping, access is via the A173 (off the A171 Middlesbrough Road outside Guisborough) and could do with some additional signage. Parking is adequate, but events force the use of an overflow field, which may not be ideal for some vehicles.
Significantly for me Pinchinthorpe Hall was the venue of my wedding to Ceri in 2005; we were able to revisit 16 years to the day later for an anniversary meal.
We were greeted and seated at 7.30pm, with a menu each, slightly different to the one I'd read on the website that afternoon. Soon after, our drinks order was taken (ginger beer for me, a peach cocktail for my wife), and despite a fascinating selection of food for each course, we quickly chose, chatted, and waited for further service. After ordering a pair of starters and mains (we skipped the onion bread and olives), our first courses were along in just a few minutes.
To start, I selected the ham hock terrine, served with pickled vegetables, crackling, and brioche. The pickles accompanied the ham perfectly – I'm not a fan of pickles usually! Meanwhile, Ceri chose the butternut squash soup.
The music was right, the lighting was perfect. And the food was good. I can't remember a more enjoyable first course.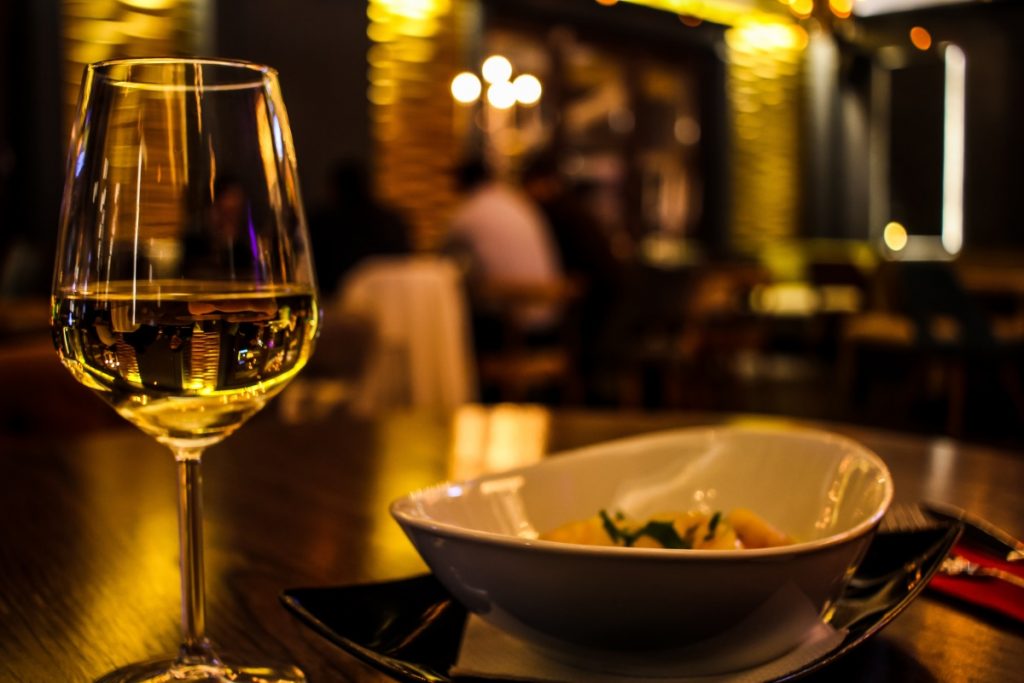 Another restaurant I'd recently booked has a strict 90 minute eating slot. No such rushing at Pinchinthorpe Hall, where we were given adequate time for the first course to settle before the mains were delivered.
I had selected an 8oz sirloin steak, medium-rare, which was blessed with a house salad, roasted tomato, truffle parmesan fries, and for a retro throwback touch, Diane sauce.
Ceri chose the braised beef pie, along with roasted baby carrots and smoked pomme puree. We added seasonal greens to share.
Unsurprisingly this took a lot eating. But the relaxed atmosphere and smart surroundings made the conversation easy, and time soon passed.
Doubtful that I would manage a third course but excited by the menu, I agreed to dessert.
For Ceri, this was a sticky toffee pudding with honeycomb, butterscotch sauce, and vanilla ice cream. She gave it her best shot, while I bravely attempted to scale a raspberry pavlova, with cream and summer fruit coulis.
Following dessert we retired to an anteroom to enjoy coffee and attempt recovery.
After paying, we had a short walk outside to take in the main part of Pinchinthorpe Hall, the facade we remembered from our wedding. Finally, we headed home, satisfied with one of the best meals we'd ever eaten.